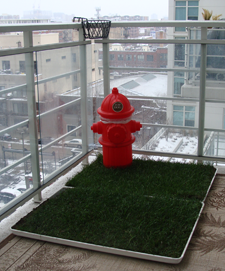 HOW IT WORKS
Pet Patio Pickup, Inc. provides two "Pet Patios" to ensure your little companion has adequate space to eliminate on.
Each Pet Patio is approximately 2' X 3'
Patios can be placed side by side (4' X 3'), or patios can be used as mini-dog runs (2' X 6')
PPP provides a fire hydrant trash receptacle lined with a 100% bio-degradable bag. Liners are replaced with fresh bags during each pickup.
PPP also provides you with 30 100% bio-degradable poop bags (1 per day) each month. Additional poop bags available upon request. Please notify us prior to delivery for more bags.
We offer clients grass or turf depending on preference and location of Pet Patios.
Check out what our clients have to say.
Start a FREE 2 Week Trial Today with no obligation to continue.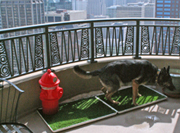 PRICING & PACKAGES
Every Other Week Pickup:
1 month/2 pickups is

$90.00

3 months/6 pickups is

$256.50

(5% discount applied)
6 months/12 pickups is

$486.00

(10% discount applied)
Weekly Pickup:
1 month/4 pickups is

$180.00

3 months/12 pickups is

$513.00

(5% discount applied)
6 months/24 pickups is

$972.00

)10% discount applied)
GET STARTED TODAY!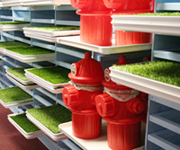 ASK YOURSELF THESE QUESTIONS
Want to avoid the weather?
Want to sleep in?
Want to avoid late night walking?
Would you like to reduce the amount of accidents In the house or in common areas of your building?
Tired of waiting on service elevators?
Salt or heated pavement bothering your dog's paws?
Want to avoid the possibility of your dog digesting outside matter and minimize the possibility of bacterial infection?
Want a great training tool/service for house breaking your puppy?
If the answer is 'Yes' to any of these questions, start your 2 week free trial today!