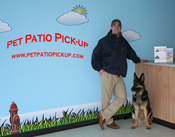 As an aspiring entrepreneur, Trey Applegate wanted to find an idea unique to Chicago. Following his passion for dogs, he realized the unique convenience of having grass located right on your patio. Trey himself owns a German Shepherd named Niko who unfortunately has had EPI for the past 6 years. Niko requires anywhere from 4-6 walks a day. Trey often had difficulty cleaning up Niko's loose stools and decided a clean, effective solution was needed!

Additionally, Trey's grandmother had a toy poodle named Dugan who resided in a high rise downtown. At 80 years old, she did not have the strength to walk her dog 3 times a day so she trained Dugan to use Wee Pads. The wee pads worked, but providing a grass alternative seemed like a better idea for everyone.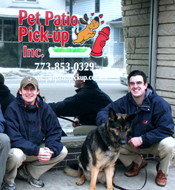 Trey also knew that house-breaking a new puppy can be difficult for those without a yard. Having to take your new puppy out 6-8 times a day in order to avoid accidents is time consuming, especially living in the concrete jungle of downtown.

To solve all three of these problems, Trey designed a small grass-lined patio that makes potty training easy, and provides dog owners with a viable, convenient alternative to walking their dog. The first Pet Patio was born!

Learn more about the product and pricing and check out what our customers have to say.